I'm just in from the world premiere of Welcome Home, Roscoe Jenkins.

WHRJ

is the new comedy starring Martin Lawrence, directed by Malcolm Lee (Roll Bounce; Undercover Brother both underrated and well-worth your time). It's the story of a Hollywood hotshot who takes his new fiancee and his son to his parents' 50

th

wedding anniversary/family reunion.

Mr. Lawrence as usual shows off his comedic genius. He has steadily become a sure bet in Hollywood. This time Lawrence is flanked by a cast of stars that at times threaten to steal the movie. Mike

Epps

(Reggie, a straight-up fool) and

Mo'Nique

(Betty) in particular shine in their roles as cousins to Lawrence's talk show king,

RJ

Stevens aka Roscoe Jenkins. The gift of gab runs deep in this family. Michael Clarke Duncan has never made me laugh so hard as Otis, Roscoe's unlikely little brother. Anytime the three of them were on screen the audience's laughter drowned out the dialogue. Watch for the softball scene in which Mr. Epps dares to imitate Mr. Duncan on screen. It feels loose like an outtake and its clear that the cast are having a ball.

Then there's Cedric The Entertainer as Clyde, the

uber

-competitive cousin (Roscoe buys Dad a plasma TV to watch football games; Clyde buys Dad seasons tickets) who literally brings down the house with Lawrence in one of the best slapstick sequences this century. Joy Bryant plays Roscoe's equally winner-centric fiancee Bianca. Director Lee handles the comedy as well as the sentimental subplot dealing with Roscoe's terse relationship with the family patriarch played by James Earl Jones. Did I mention this is an all-star cast?

WHRJ

has got some great laughs and a believable character arc for Roscoe as he deals with his Daddy issues and being a father, too. Entertaining from top to bottom.

After the movie was the

afterparty

at Hollywood and Highland. Universal went all out for this premier. One of the finest I've attended. I had a chance to speak with most of the stars and share thoughts about the film with them. Mr.

Epps

and

Mo'Nique

were very charming. Michael Clarke Duncan is the man. And Cedric, well, he's always entertaining.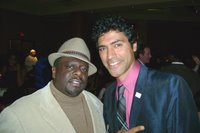 I had a chance to compliment

Alfre

Woodard (not in the film) on her

Obama

pin. She was pleased to see mine. Yes, it arrived in the mail just before I left the house. Lots of folks sporting

Obama

accessories. And then there was the Home Run King. Yes, that Home Run King. I was surprised to find that I'm taller than Mr. Bonds. Yes, I'm a Dodger fan and I've booed Barry my share, but he has that swing. And he's friendly and that's a great smile isn't it?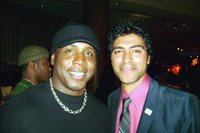 Best of all I had a chance to catch up with an old

acquaintance

from

Hoyaland

, Mr. Lee. I hadn't seen him in years and suffice to say I'm proud of him and pleased for him. He's directed a grip of movies that I would recommend to anyone. Big ups, Malcolm. Best of luck with Roscoe Jenkins and your new picture, too.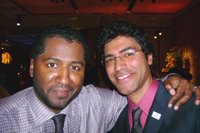 Peace & Disco Beats