Got A... [Show Recap]
Hey Soul Mates,
We had a really good time last night at the Gig. It was a hellzapoppin' show. Thanks to everyone who braved the forecasted rain. You made the place electric. I hope you will enjoy your holiday ornaments. We ran out, which is a very good thing.

Here's the first photo finished. It was taken just before the set last night. We look kinda sharp. Hit it to enlarge us. There are more photos up on the website. Dunno if the color combo worked like we hoped, but what the hell? You gotta experiment sometime. Any particular hue you'd like to see us in next time? Maybe that will be the poll on the next evite.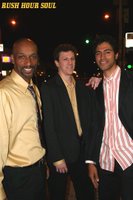 We kicked off the set with Talent as the curtain rose. We kept the pulse quick for the first 3 songs. Everything My Heart Desires has become a new favorite it seems. It's been getting a really good response. We pulled out an old cover in honor of the Stones' visit to the Bowl/the Red Cross drive I was involved with. My mic chose that moment to short out, so I got to sing from Bry's side of the stage. We finished the set with Excommunication. Last show, it was out of the set for the first time since writing it. A lot of people did the "X" choreography for the first time in a long time. To end the song, we did our 3 man flying leap and of course, I jarred my bad knee. Never a dull moment. It's not too horrible, icing it as soon as I got in helped.

The club was pleased with our turn-out and, once again, with how great our fans are. Thanks. We also had a very good response from our industry contacts in attendance. That's always a lift. I hope that we'll have some really good news for you in the coming weeks. It's the Holiday season, after all. What a gift that would be.

Here's the set list from last night:
A Talent For Loving
U Had The $
Sucka
Everything My Heart Desires
Everyone's Ingenue
Done Lost My Mind
Miss You (Rolling Stones)
Down By Love
Fall Out
Excommunication

Best of all, we can announce our next performance: Dec 1 at the Gig. This will be a FREE show (just mention us at the door) and it may be televised for cable. And seeing that it's so close to the Architect of Rock & Roll's birthday, a small tribute might be in order.


Love, Power, Peace