Coast To Coast
Hey Soul Mates,
just a quick, jet-lagged blog. After all, I woke up at 4 a.m. PST to go swimming in the Atlantic to watch the sunrise. We had a great family weekend in Vero Beach, Fla. Grandma really enjoyed the 5 day celebration of her 90th birthday. I spent a lot of time in the ocean with my uncles and cousins. Also got my butt kicked by a couple of waves. Especially, yesterday at low tide, the Atlantic was relentless. By this a.m. I had my sea legs back. It was great to see the extended family. The weather really cooperated, too. Hardly a cloud and only a few drops of rain this morning. Happy Birthday (which is today), Gmom.

The interview for Pop Garden Radio on Saturday night went well. I was on with DJ/host Adam Waltemire on WMEL for most of the 2 hour show. He played all 4 tracks from our new EP. We chatted on air, and off, about the LA music scene in particular. Adam is a big fan of several of the local pop bands that are friends of mine. I will try to edit a little of the broadcast so you can hear some of the interview. There are also some fun pix of yours truly at the station. It's your quintessential southern radio station: small brick building with a huge antenna outside, surrounded by tropical trees and little else.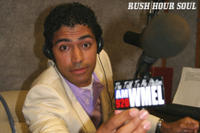 Tomorrow is Sam Moore's (of Sam & Dave) 70th birthday. Much love, Sam. Hold On, I'm Coming! I wish I could tell him happy birthday in person. Maybe next year.

Time for me to go to sleep. I think I've managed to wash most of the salt, sand and chlorine out of my hair. See you in a few months, Florida.



Love, Power, Peace.