Hey Soul Mates,
we're just in from taping our performance/interview for Suite 108's Monday Show with Sara Routh. It was a successful evening. We had a lot of fun and our intimate live studio audience added to the atmosphere. Sara, the host, is a gas and the band got on famously with her.

We started the show with a semi-acoustic performance of our #1 single A Talent For Loving. Then we got into the interview. Everybody was particularly witty tonight. The topics of discussion ran from the origin of the group to movie quotes to the writing process to what the band was wearing to Bryan's dimples. You'll have to hear the podcast. Of course, I'll tell you as soon as it's available; although some of you will beat me to the punch. We ended up playing 3 songs during the show, depending on how it's edited. I'm going to let the rest be a surprise.

Pictures from the evening have been posted. So check them out. There's super-redeye on some of them. Sorry folks, dems da breaks.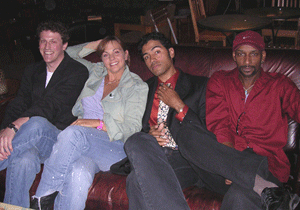 Rush Hour Soul and "Monday Show" host Sara Routh.



Thanks to Sara, show producer Jakob Nielsen and the Soul Mates who were there. And if you weren't there, you may have received a shout-out, so listen up! We "trust" that they will have us back for a future show. Be sure to send the station your feedback after the episode airs.
Love, Power, Peace