We Saw Jules!
Hey Soul Mates,
pictures are up from our barnburner at Brennan's. Hope you will enjoy them. Bryan was particularly photogenic. There are a couple in which it looks like we are plotting. We are. It was a show for foxy people, for sure. Here's a blog exclusive, just for you gentle readers!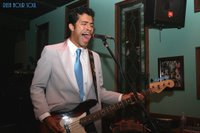 Bryan came over this evening and we worked on parts of three new songs. Watch out! You won't hear any of these before our April show. But I'll give you a taste of a couple of working titles: Next July and Roosevelt's Revue. One's a ballad; the other is an uptempo funk-pop cut. Guess which is which.

Ok, so we went down to the Gig to catch our peers in action: Pillow Of Wrongness and People. Both put on rocking sets. I had to commend Russell from POW for incorporating keyboards and having a knockout lineup. One of their songs, Fake My Death, is "one I wish I had written." Very good and it's available on their latest disc. People just flat out rocked in their glam way.
On the way home, we drove past the old Chaplin/A&M/Muppet studios on La Brea. There was a huge line of cars out front. We realized it was valet returning for an Oscar pre-party. Red carpet, paparazzi, lights. At the same time, Bryan and I said "Sam Jackson!" Sure enough, there he was decked out in white, including his (recent) trademark kangol. As Bry remarked, "that's a cool star sighting." You'd dig it the most.

Have a great Friday. It's the weekend! But we'll be busy with rehearsal, a special appearance at a friend's birthday party, and more prep for our trip to the UK.
Plan on seeing us next Friday at the Good Hurt if you are in Los Angeles.
Love, Power, Peace