All This Love [show recap]
Hey Soul Mates,
you could call it a triumph for us at the Rumba Room last night. It was a FM radio-sponsored show; we supported a nationally known act. Pretty cool. We played our entire set for about 300 people who've never seen us before and didn't get a single cat-call or boo. In fact, the crowd was pretty good to us considering we played original songs. This was an audience that is used to cover bands preceding a national act with songs they've known for 20+ years. I'd say we acquitted ourselves handsomely. And we did look good in our reds and black.

During the crowd warmup before our set, Bryan's guitar was knocked over and out of tune. Not an auspicious start, considering it took us a solid two-minutes of dead-air after being introduced to get going. But then, we got going good. We certainly rocked harder on our funky numbers than this group was prepared for. It being an R&B crowd, our slow jams were the highlights of the night. I thought that Everything My Heart Desires was the peak of our performance. The sound at the Rumba Room was pristine on stage. Not a soul would have guessed that I couldn't even talk on Sunday. So I was very pleased with my recovery and with what I could hear meself doing on stage. I haven't felt that comfortable with a whole night's vocal sound in months. Kudos Rumba Room.

Our only misstep of the night was ending with our cover of Prince's Let's Go Crazy. That song works when we've got a huge crowd of our own, not necessarily in front of a seated audience of strangers. No excuses. It was shitty. But we established that we are not a cover band and dozens of people there complimented us. One even went out of her way to say "thank you for not playing covers all night." This was certainly an appreciative audience even if we baffled them with our own music.

Here's our set list for the evening:

Fall Out
U Had The $
Everything My Heart Desires
Bad Penny Blues (Gold Digger)
A Talent For Loving
Done Lost My Mind
Everyone's Ingenue
Let's Go Crazy

The DeBarge brothers were fierce. It was Chico (who had been a solo artist in the 90's) and James one of the middle brothers who was in the group, DeBarge. So the set was split between the two, who both played vintage rhodes keyboards and harmonized for each other. Chico opened with his solo material to hoots and hollers from the female members of the audience. But it was James who brought down the house with the family's trademark falsetto on hits like I Like It and All This Love, which we gave a standing ovation. They were both very friendly backstage, so it was cool to actually meet them and chat briefly.

Thanks to Randy Lopez who took a chance on booking us. And to DeBarge for topping a fun bill. Plus, a special thanks to the Soul Mates who made it to the show last night. It helped having a bunch of you in the front row singing along. We've been invited back and made a good impression on folks there. So, thank you.

I'll get cracking on the pictures this weekend. In the meantime, here's a visual sample of the Red Letter Night we had a the Rumba Room. Oye!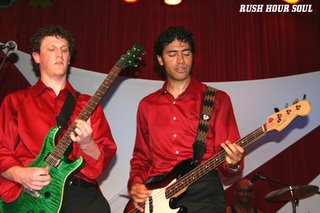 Love, Power, Peace