Happy Birthday, Mr. Nelson
Hey Soul Mates,
today oughta be a National Holiday. It's certainly a day to celebrate an international institution and American Original:
Prince Rogers Nelson
is 47 today.

Me: "That was a helluva show, sir."
Prince: "Thank you."
Me: "Thank you."
And he smiled the whole time. Not an earth-shaking exchange, but tonight I met one of my most cherished heroes. Prince performed a very private show for about 400 people at BB King's Blues Club on the Universal City Walk. Not only did I get to greet Prince, I watched his entire hourlong set from the balcony standing next to Morris Day, one of his musical cohorts. Quite an exciting evening. Morris was also very nice and I chatted with him briefly. It's a relief when people live up to your expectations or exceed them in their patience and pleasantness. By the way, I am a full foot taller than Prince and he was in high heels.

That was from an e-mail I sent to friends on Aug. 19, 2003.

I am in awe of Prince's contribution to popular music and culture. Not a day goes by that I don't whistle Christopher Tracy's Parade or mentally spin Housequake in my head. His influence on me cannot be understated. I do not try to copy him (all the time), but his stamp on my work is indelible. On my list of top 10 albums of all time he holds down 2 spots. If you expand that list to top 20 he's got 4. To run down a list of my 10 all-time favorite Prince songs would be unfair to another 30 songs. But, here's my attempt anyway. In alpha order:

D.M.S.R. from 1999
Gett Off from Diamonds & Pearls
Housequake from Sign "O" The Times
I Would Die 4 U from Purple Rain
If I Was Your Girlfriend from Sign "O" The Times
Kiss from Parade
Partyman from Batman
Pop Life from Around The World In A Day
17 Days from the B-Side of When Doves Cry
Still Would Stand All Time from Graffiti Bridge

This list, of course, discounts jams like Now, U Got The Look, Sexy M.F., Mountains, New Position, Gold, Musicology, Controversy, La La La, He He Hee, Eye Know, My Name Is Prince, Le Grind, Scandalous, Condition of the Heart, The Beautiful Ones. I better stop.

My favorite guilty pleasure movie of all time is Under The Cherry Moon. My college roommates and I used to watch that every Friday before we went out or threw a party. My homeboy, Christo and I can still run lines from it, like we did in acting class. I'm certain we were the first people to assert that there was acting going on in that film. It's a beautiful looking movie to be certain. A black & white screwball comedy sorely misunderstood in its time. Not a musical like Purple Rain, but a prolonged in-joke for the fans.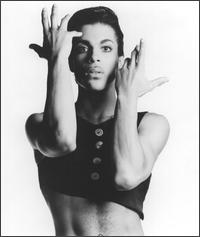 My favorite album of all time is Parade. As eclectic a set as any artist has ever released. If I could only own one album for the rest of my life, that would be it. Within 41 minutes Prince tackles pop, funk, R&B, jazz, cabaret, and psychedelia. It's never boring and it holds a special place in my heart. It was the soundtrack to a summer spent overseas, a first taste of independence. I, how you say, I wonder U? This CD doesn't even contain 2 brilliant B-sides Love Or $ or Alexa De Paris. Hands down, a record to be cherished.

I have a great appreciation for all of his works. I'm only missing one or two official releases, but I've made up for it. If you had to start with a random Prince LP, you'd have to get Purple Rain, followed by 1999, then Sign "O" The Times. This is if you own NO Prince records. Unlike Michael, for a decade, Prince released an album a year. So much great material put out at a very quick rate.

There was a time when you would hear a new Prince single unannounced on the radio and die for the next hour waiting for the DJ to spin the record again. There were 3 times in particular that this occurred and each time the song was otherworldly. Like nothing I had ever heard before. Like nothing any of us had heard before.

I can remember sweating in the Florida heat in our nasty old Chevy Nova, pulling into the parking lot of a local strip mall when this squall of guitar flew out of the radio. A heavily processed voice moaned "yeah oooh yeah ooh yeah oh yeah." It was followed by a light keyboard motif and the words "Dig if U will a picture" and I was gone. Glued to the radio. Floored by what I had just heard. Oh, we knew Prince from Controversy. 1999 had been a big hit around our old neighborhood and we still boogied to Delirious. But this was something entirely different. It was a new sound. Dammit! It came from outtaspace!

Two years later, my brother and I were doing yard work on a weekend. Probably preparing for hurricane season. Humidity. The boombox was poised on a planter in the front entry. There was no warning, no take a big gulp of breath, no "here it is!" Just a solo telecaster played through a wah-wah going Doodle Doodle Doodle Doodle Doo - "Uhn!" Work in the yard stopped. There was just this synth drum and a high pitched voice singing something 'bout "I just want your extra time and your * * * * Kiss." I fell hard for that song. It's a cliche now, but I think back on that first time hearing it and I get chills. Damn you, DJ! You shoulda warned a brotha.

The following Spring, I was getting ready for school. Little boombox in the bathroom to force me awake. The rhythm percolated through the airwaves. This song was past midway, but I caught "We'll call him Nate. If it's a boy." Oh Shit! That had to have been him. Had to!! That night, I ran to the record store afterschool and bought Sign "O" The Times. Then a few weeks later, I bought the whole album the day it was released.

On each of these tracks, Prince defied gravity and convention. The storytelling is immaculate, the production is sparse. The performances are legendary. The charge I got out of hearing a Prince single for the first time will be with me to the end. What's amazing looking back is that that was top 40 radio. Those songs are too far out now. Back in the day, they were literally revolutionary.

I've been fortunate enough to see Prince perform in person on 9 occasions. First saw him in Landover, MD on the Lovesexy tour. Then saw all 3 shows at the Uni Amp for the Love Symbol Tour in '93. Then I saw him at the Soul Train Awards and an afterparty gig at his former LA club Glam Slam. The Glam Slam show was exactly that. He played for an hour and a half and was joined on stage by Mavis Staples and Stevie Wonder. Owww-ah! Years later, I caught that private set at B.B. King's and then last year we saw the Musicology show. And lemme tell you, they were all great and life-affirming experiences.

His quantifiable achievements? Here's a refresher:
Three #1 albums
Five #1 singles
Three #2 singles
Four Grammys
And still most impressively an Oscar for

Purple Rain

in an era long before Springsteen and Dylan became regular nominees for middling material. Last year his induction into the Rock Hall cemented his legend, but he continues to write his own story. He is a role model, musical mentor and innovator like no other. Thanks for all the gifts. It's taken me 2 hours to write this blog. I could have written more...

Long Live Prince!
Happy Birthday, Mr. Nelson.

Love, Power, Peace
Now go put on a Prince record and dance!