Give Peace A Chance
This morning I delivered the homily for chapel at church for the Wesley School. Our theme this month is "peace." So I decided to split time for two poets. John Lennon and Maya Angelou. I was very pleased that several of the 4th graders knew Lennon's lyrics when I quizzed them. I.e. who said "Give peace a chance" or "All you need is love?" A couple of the girls were very quick tell us it was John Lennon. Turns out they had done book reports on him and the Beatles.
Today is the 28th Anniversary of John's assassination. What a pity he is gone. I can remember the following day, Tuesday morning, waking up to
Strawberry Fields Forever
on the radio. My 6th grade teachers (in their early 30s) were devastated. We spent the day talking about him and listening to his records.
John's music and the lessons of his life are as important as ever. As I clean the house, I have the
Imagine
album playing. Mr. Lennon means a lot to me. I've made two pilgrimages to Mendips and Strawberry Field in Liverpool. Played the Cavern Club several times. Visited the Dakota and Strawberry Fields in NYC. My wedding anniversary is even the same as his and Yoko's. Betcha didn't know that.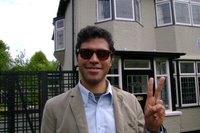 (Me at Mendips, 2008, flashing the peace sign. Previously unpublished photo.)

So for the homily, I decided that I needed to invoke John and remember him to a new generation of peace-loving people. As I mentioned, I also shared thoughts about Ms. Angelou. Then I read her poem "Amazing Peace." Appropriate for the season, "Amazing Peace" was composed a few years ago for the lighting of the National Christmas Tree ceremony. When I finished I stressed to the students that people like Lennon and Angelou are important because they promote Peace at all costs and under all circumstances. We should endeavor to do the same.

Peace. What an amazing concept. Waiting for the Prince of Peace to return, we gotta do our part. 'Tis the season every season.

Happy Xmas, War is over if you want it.

Peace & Mersey Beats