Hollywood Holiday [Show Recap]
Hey Soul Mates,
yes, it was a fantastic show. We played our hearts out and wowed the crowd with two new songs. That we only rehearsed in full last night. The band looked really sharp, too. I had on my layers of berry and my vintage vest from the Netherlands. Doug rocked the purple and black. Bryan sporting shades had on his trademark Cavern black, including skinny tie. We're very excited because not only will you get to see the whole concert on the Gig's website, but we had the show shot by a pro videographer in HD (Christo, you're going to love it). Action!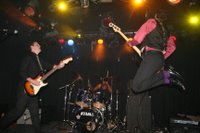 Here's the set from tonight's show:

U Had The $
Everyone's Ingenue
Sucka
I Can't Cry For You
Everything My Heart Desires
Down By Love
Roosevelt's Revue (debut)
Fall Out
Raspberry Beret (cover)
A Talent For Loving

That being said. It was also a dismal failure tonight. We would like to thank everyone who came out to our show...

Jen T.
Kristee L.
Patty T.
Gabe G.
Blake Mc.

Garner K.


Oh, and
Mari B.
Jana M.
who arrived in time for our finale.

Yep. That's it. That's everyone who came to see us tonight. Oh, but it gets worse. There was one other person there to see us. The Vice President of a real record label. I'm sure we impressed with our turnout. Ha ha. We certainly hope that our performance was impressive. In fact, I'm pretty sure that was our swansong at the Gig. Many thanks to the owners and management of the Gig for supporting us and our Quixotic quest for the last couple of years.

We know that there are hundreds of fans who want to see us in the U.K. We hope that we'll get back to entertain them again next year. But at this rate, it's slow going. The band's expenditures for this show topped $400 (Doug of course is doing the 8 hour drive back home as I write). We certainly did not get paid to appear at the Gig. But before we do any sign-off sermonettes, we've got one more chance to show and prove at the
Good Hurt on Jan. 12, 2007
. Be there. Please. In the meantime, power up your browser and head to the Gig and be amazed!

By the way, Doug and Bryan agree and sanctioned the tone and content of this e-mail.


Love, Power, Peace