Olympic Fever: Nascar On Ice
Hey Soul Mates,
more intense than the Boogie Fever I had as a kid, I've got Olympic Fever once again. 4 years ago, I discovered Apolo Anton Ohno and Short-track. What a rush, watching the speedskaters in such close quarters. But this year, there's a new kid on the block and it's badder than Ohno and the Short Track: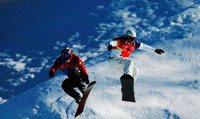 Snowboard Cross
(SBX). A brand-new medalling event,
SBX is part motorcross, part Nascar, all snow. It's full tilt, body-banging action at high speed on a downhill snowboard run. Wipe-outs, pile ups and intrigue highlighted each heat. Jumps, spills and contact combined with the downward velocity really amps this baby up. It's like a James Bond set-piece, minus the weaponry, but with all the excitement. Seth Wescott, the American who won the sport's debut gold, fended off stiff competition to win in a photo finish. That's Wescott airborne in white and silver medalist Radolsav Zidek (Slovakia) on his left.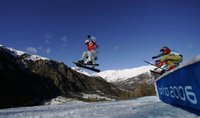 Tonight, the ladies go at it with equal intensity. Snowboard Spoiler alert! Due to the time-delayed broadcasts, the website posts results well in advance of airing. I keep forgetting this and end up knowing who wins before an event is shown. There is an option on the NBC site to view the entire competition. Which I would recommend, if you have the time. I hope to be in Vancouver for the 2010 games and fo' sho, I want to see this sport in person. I suspect SBX races will become a hot ticket by then.

In Rush Hour Soul news, you'll be glad to hear that we will be performing once a month around Los Angeles in the run up to Britain. The new show dates will be posted shortly. I expect to see many of you at the concerts. We'll be debuting new songs in April and May. There will also be a few surprises along the way, as we are adding some special cover versions when we play Liverpool. We might just be persuaded to play them for the audiences here at home to test them out!

Tonight, I'll be heading out to Taix in Silverlake to catch the Waking Hours and Adam Marsland's Chaos Band. We are performing on the bill with the AMCB next weekend. Adam and I have been discussing a collaboration or two for the show. You'll have to be there to see/hear what we come up with.

Have a great Friday and a safe weekend.


Love

,

Power

, Peace